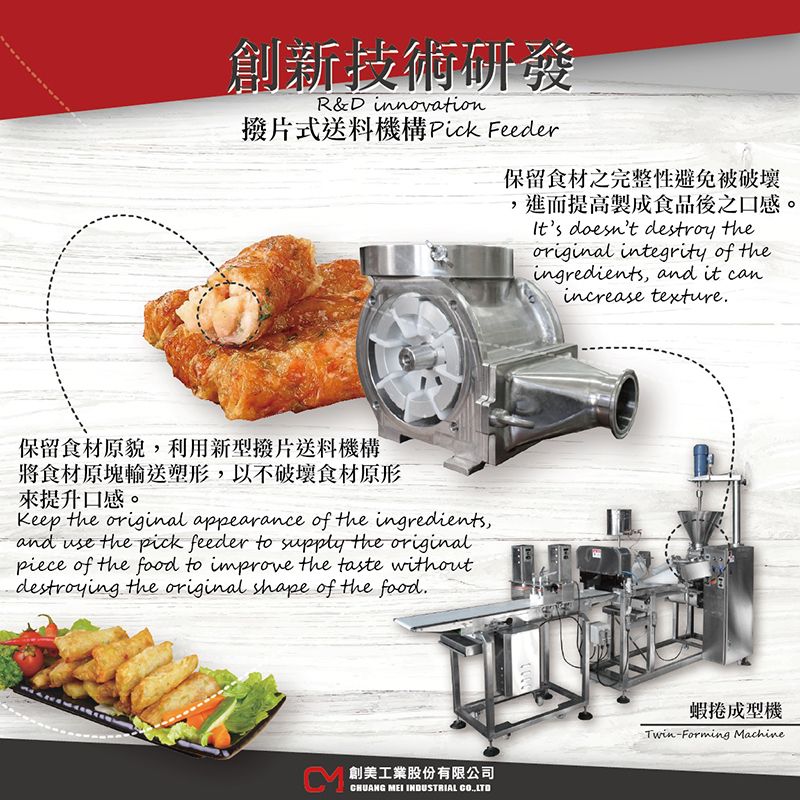 Utility model patent- Development of pick feeder
The pick feeder designed and developed by Chuang Mei can not only be used with various feeders, but also produce various products!
---
20 Aug, 2021
The twin forming machine of Chuang Mei is used with this set of pick feeder, which will not destroy the original integrity of the ingredients. The whole piece is pushed forward by this mechanism to achieve no compression, so the content will not warm up, reduce the installation of coolers, and achieve the advantage of low power consumption and cost savings.
Product Catalog Download
Welcome to download the latest product catalog.

Download
Aquatic Food Processing and Conditioning Machinery Manufacturer Since 1977 | CHUANG MEI INDUSTRIAL CO.
Based in Taiwan since 1977, CHUANG MEI INDUSTRIAL CO. has been a food processing machinery manufacturer. Their main processing machines, including food forming, coating, frying and cooking machinery, as well as food refrigeration coolers, conveyors and lifter equipment.
CHUANG MEI Industry has more than 45 years of experience in food processing machinery manufacturing. It has complete self-development ability, provide customized and accurate humanistic consideration design, and are consistent with comprehensive, formal and multi-functional opportunities. CHUANG MEI focuses on producing of aquatic food processing and conditioning machinery and offering friendly services to customers.
CHUANG MEI, CM has been offering customers food cooking machines, both with advanced technology and 45 years of experience, CHUANG MEI, CM ensures each customer's demands are met.